FRIDAY - April 17th -7pm
(Also on 4/18 at midnight and 4/19 at 2 p.m. )
HAIR at Maryland Institute College of Art
1300 W. Mt. Royal Ave, Baltimore
Ticket Info: $15, students $10, opening night $5
Being put on by the student run Rivals of the West theatre group, and directed by Peter Shipley.
If you don't want to go purely out of excitement and fond memories of watching the movie and owning the soundtrack,
you could at least go because somebody made a really cool poster.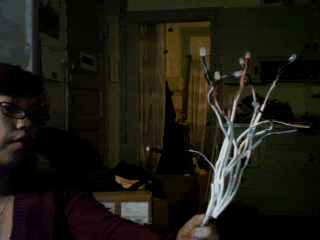 SATURDAY April 17th 7-11pm
Off the Wall
opening reception at
The Whole Gallery
H&H Building 405 W. Franklin St. 3rd Floor - Baltimore
Off the Wall is a sculptural (3D) show curated by Emily C-D, and features what looks like some really amazing installation pieces by the likes of Kaitlin Murphy, Phu Pham, Alzaruba, Jill Greenberg and more. Check out some installation shots on the
Whole Gallery blog
, or check out the show in person on Saturday night!
EcoFest
in Druid Hill Park!
11am - 5pm
Outdoor music (including headliners Caleb Stine & Saleem), the Baltimore Free Store, Bike tours, children's play areas, and some promised vitamin d. It's supposed to be sunny and in the 70's on Saturday. You ought to go outside!!
SUNDAY April 19, 11-4pm
Spring Bada-bing
at PLANT ZERO.
0 E. 4th Street Richmond, VA 23224
Spring Bada-Bing: The BOSS of all craft shows" is an independent artist craft show in Richmond, Virginia and many of your local B-more crafters will be carting their loot down to set up shop! A great event, lots of fun, with a bonus wholesale preview hour at the beginning of the show for interested shops & retailers.